protein toppers
---
there are no snacks to show here
yogurt just got interesting...
"It all started with creamy yogurt, tasty yet plain, waiting for the right topper to come along.
After some experimenting in the graze kitchen, we came up with a quick, easy way to make yogurt so much more exciting. Inspired by our favorite flavors, we used wholesome ingredients like nuts, fruit and seeds, to create our brand new protein granola toppers! Not only is each one delicious in its own fruity, crunchy way, we've also made sure they're all a source of protein. Ta da! A new, tasty way to get a little extra protein into your diet."
Bobby, graze taste expert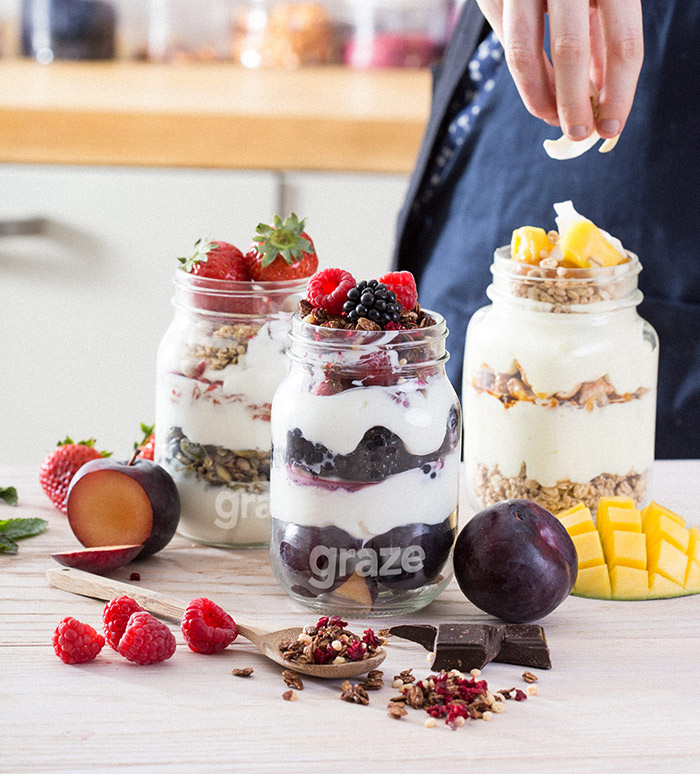 ---
good to know
What's in the snack punnet?
All of our protein granola toppers contain a wholesome mix of dry ingredients that are designed to be a great topping, making your yogurt that bit more exciting.
Is yogurt included?
Yogurt is not included within the snack. Whilst we think these go best with yogurt (particularly Greek yogurt), if you don't happen to have any on hand they also make a great snack on their own, and can be used as tasty additions for oatmeal or ice cream.
What is a soy protein crispy?
Our soy protein crispies are a simple blend of soy protein, rice flour, malt extract and a touch of salt. This is blended and then puffed in a similar way to rice crispies.