Meet our nutritionist
say hello to Jess!
She's our fully qualified nutritional therapist and is on hand full time at graze to answer all of your nutritional questions and generally ensure that you're getting as much as you can out of your snacks.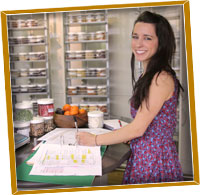 She checks every single recipe to make sure it has a benefit for you. She also makes sure that our boxes are made up with just the right ingredients to make for a satisfying snack, so you're not tempted to put your hand in the cookie jar.
Thank you Jess, you rock!