we love brownies…
…but we wanted one that didn't make us feel rubbish afterwards. So we sent Jason, our very own budding baker, on a quest to create a better brownie.
---
Jason tells us about the graze brownie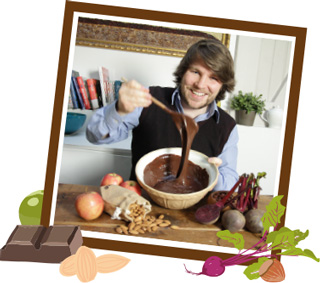 So, where did you start?
Well, firstly I got rid of butter and wheat flour and replaced them with ground almonds. This gives a moist and naturally rich brownie.
Then what?
Chocolate! We use fine cocoa and, to bring out the flavour, I use my secret ingredient – beetroot. This brings out the intense cocoa flavour and gives an amazing deep colour.

---
good to know
why have we used rapeseed oil?
Rapeseed oil only contains 7% saturated fat (compared to butter which has 51%!) and it's a good source of omega 3 and omega 6.
why have we used marshmallow?
We have used vegetarian marshmallow to give the brownie an extra fudgy texture without the need for all the butter.
why have we used beetroot?
A little bit of beetroot goes a long way. It's used to naturally enhance the flavour of the chocolate.
how do I check the ingredients?
Just click on the picture to see the full list of ingredients.
is it suitable for coeliacs and vegans?
It contains free range eggs, so it isn't suitable for vegans.
The recipe does not contain any wheat or gluten, however, as all our food is packed in the same place, we cannot guarantee our snacks will be suitable for people with specific dietary requirements as cross-contamination is possible.
how long will my brownie last?
Your brownie is freshly baked without any additives or preservatives, so it's best to eat it straight away.