the famous graze brownie made with ground almonds, beetroot and cocoa
free delivery if you spend £10
Heads up! Our brownies are hand baked every Tuesday afternoon without any preservatives, so it's best to eat them quick while they're fresh! You'll have 10 days to eat your treats.
Our delicious brownie is made with the finest cocoa and our secret ingredient - beetroot. So it's only 110 calories whilst still being delicious!

Tip: Our brownies are freshly baked each week in limited batches, and come straight from our bakery, so it's best to enjoy them within 10 days. To avoid eating more than one a day, we recommend sharing with friends or family.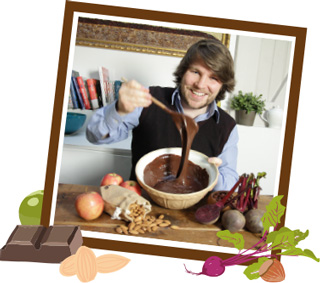 About this snack
Everyone loves brownies, and our taste experts love making healthier versions of everyone's favourite treats. So we sent taste expert Jason, our very own budding baker, on a quest to create a better brownie.
What makes them so good?
First we got rid of butter and wheat flour and replaced them with ground almonds and our secret ingredient, beetroot.

Ground almonds is a great substitute for regular wheat flour, whilst beetroot brings out the intense flavour of the cocoa powder and works with the ground almonds to make our brownie deliciously rich and moist.

We also used rapeseed oil, which only contains 7% saturated fat (compared to butter which has 51%!) and it's a good source of omega 3 and omega 6.

Then we packed our specially crafted recipe with the best quality Belgian dark chocolate, and sprinkled it with hazelnuts, for a delicious source of fibre that's only 110 calories!
How should you eat it?
You can enjoy the graze brownie cold with a cup of tea, or try popping it on a plate and giving it 10 seconds in the microwave to enjoy warm. Add a scoop of frozen yoghurt and serve with fresh strawberries for a delicious dessert.
When should you eat it?
Our brownie is freshly baked without any additives or preservatives, so it's best to eat it straight away. Don't eat them all at once though! We recommend one multipack of 6 punnets for sharing with a group of friends or family.

Only 110 calories

Source of fibre

Suitable for vegetarians

Contains no butter or wheat flour

Best enjoyed when fresh

Perfect for sharing with friends or family
allergens
for allergens, including cereals containing gluten, see ingredients in bold
Graze is not suitable for people with allergies.
All of our food is packed in the same place, so cross-contamination between any of our ingredients is possible. Our snacks may contain traces of gluten, eggs, peanuts, soya, milk, nuts, celery, mustard, fish and sesame.
182 reviews for the graze brownie
---
from our blog…