Graduate jobs at graze
Introducing the graze tech team
---
We might look like a standard food company, but everything we do is centred around technology, and we think this is the key to being better than other food companies!
We currently have around 100 people in the head office in Richmond, with about 30 in the tech team. Our team consists of management (all from tech backgrounds), developers (front end, platform, operations, devOps, etc), data developers, data scientists/analysts, user experience designers, IT and infrastructure.
What does the graze tech team do?
Technology underpins everything we do, from customers ordering snacks on our website, through to production, stock control, postage and ingredient ordering systems. The data team helps track this whole process to spot inefficiencies where we can improve, and provides metrics for the commercial teams.
Some of the technology we're enjoying at the moment: Docker, HTTP Services, Queues, Tableau, AWS and Redshift, OOP, Magento 2, PHP / Python, JavaScript. We're always open to new technologies and love to take advantage of innovative techniques!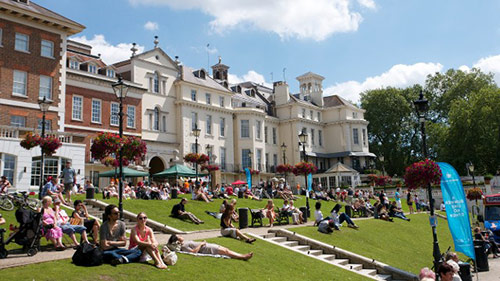 What we're offering you
We hire excellent people, and we treat them well. Quite simply, we're offering you a job! You won't be a "junior" or "graduate" - you'll work on real problems. You will need to learn fast, but we'll be supporting you and helping you become excellent.
By the time you decide to move on (if you do), you'll be highly skilled and capable of moving into a number of different roles in any tech team.
This is not a traditional grad scheme or a prescribed fixed-length programme. Instead, you and your manager will create a programme together, specifically for you.
All of the following are available to you:
Team/role rotations to learn different areas of the tech team.
One-to-one development sessions with our team members and managers.
Hacker time to work on projects that interest you and develop your skills.
Mentors (usually someone who's recently joined the team).
Weekly one-to-ones with your manager to discuss progress.
Individual or small-group training sessions on new technologies, business and behavioural skills.
Opportunities to go to conferences and talks.
Six-monthly reviews to receive peer feedback and discuss options for personal development, career progression and opportunities open to you.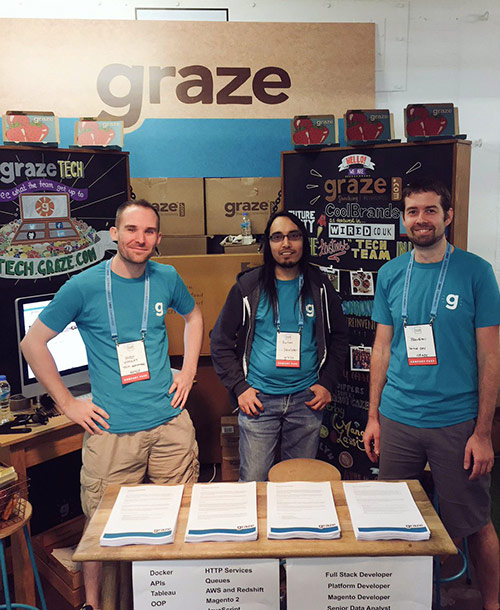 Helping you develop
The transition to work is a big change - there's a lot you won't know. That's why you'll spend time in your first few weeks with your line manager and your mentor. These are people you can talk to about anything. There are no suits at graze - only friendly people who have all been in your situation, often quite recently.
Find out more from two recent new starters: James's blog post about the interview process and his first day, and by watching Jake's video blog.
As well as helping to develop your technical skills we'll also encourage you to think about what else you could be learning - building relationships and communication, critical thinking, presentation skills, commercial awareness, various organisation disciplines.
One-to-one development sessions, small group learning and hacker time are available to all our tech team members. We also like to set up days where you can visit other tech companies to see what we can learn from the ways other teams work.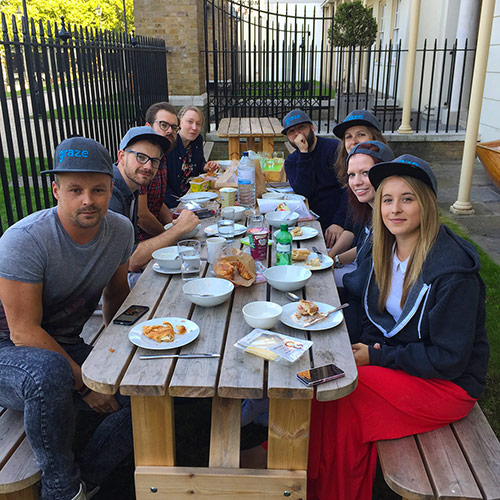 What's it like working at graze?
We think work/life balance is essential - doing good work is important to us but counting the hours you spend at your desk is not. We're very lucky to have an amazing office by the Thames in Richmond, with beautiful views right over the river, surrounded by great restaurants and bars.
As you can imagine, we all get very excited about food, with regular group lunches out, welcome dinners and weekly team breakfasts. When it comes to socialising, we do everything from office rugby, yoga, and HIIT training, to regular pub trips and nights out, and even the occasional holiday abroad!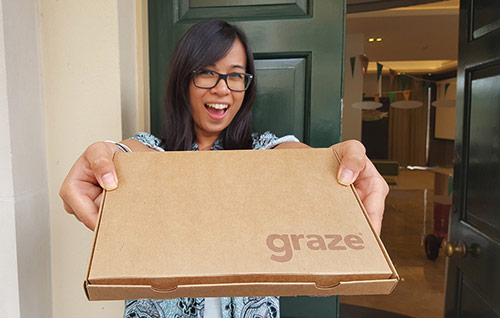 What kind of person are we looking for?
Our CEO says we hire "people who are inquisitive, who want to figure out the answer to things, and people who are dogged in their creativity and won't let their ideas be shot down".
If you want to find out more about graduate opportunities at graze, email us at jobs@graze.com. You might also like to read about what we're doing on our tech blog or follow our tech team @snackoverflow on twitter. We also have a few public repositories on GitHub.
We are an equal opportunity employer and value diversity at graze.
---