tell us the snacks you enjoy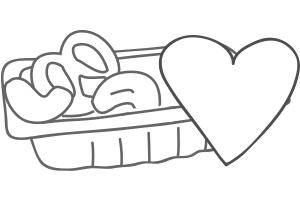 over 100 to choose from
---
we hand-pick a box for you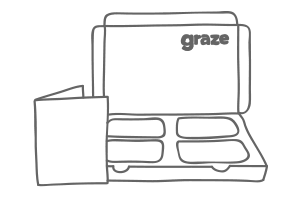 4 inspired snacks in a box
---
and send it to your work or home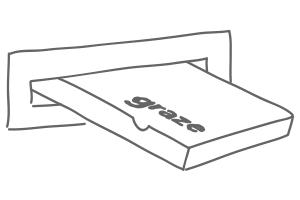 to help you enjoy a better choice
---
good to know
where do you deliver to?
Graze boxes are delivered by your local postie, so any address in the UK that can receive post can receive a graze box.
what food can I get?
We have a range of over one hundred tasty snacks (with healthy benefits), including nuts, dried fruit, dips, olives and seeds, as well as some well-deserved flapjacks, cakes, popcorn and natural treats.
Graze is not suitable for people with allergies. All of our food is packed in the same place, so cross-contamination between any of our ingredients is likely to occur. Our snacks may contain traces of gluten, wheat, eggs, nuts, peanuts, soy, milk and fish.
how do I choose the contents of my box?
We pick your snacks based on the ratings you select online. For each of our foods, you tell us whether you like, love, or would like to try them. Rating only takes a few minutes and it's the best way to make sure you get boxes which are just right for you.
how do I order a box?
Ordering is simple. You choose a box type and enter your delivery and payment details. Then all you have to do is sit back and wait to enjoy the food when it arrives, simple as that.
how do I cancel?
There's no commitment ever - you can cancel your recurring deliveries at any time online. However, because we prepare your boxes in advance you'll need to cancel before the cut-off time for your next box.
how do I pay?
You pay per box using your credit or debit card. We take payment a few days in advance of you receiving your box as we need time to prepare and send it to you.
can I send boxes to different people and addresses?
Yes, you can add as many addresses to your account as you like, so you can send boxes to whomever you like or wherever you are.
do I need to be in to sign for my box?
Our original graze box, containing 4 individual snacks, is letterbox sized, and is conveniently delivered by your postie, along with the rest of your post.
We send our sharing boxes via Royal Mail. As they're bigger than our normal boxes and won't fit through your letterbox, we'd recommend supplying an address where you know someone will be in to receive it. If no-one is in to receive the box then your postie will leave a card to let you know they've called and you'll be able to collect the box from your local sorting office.
when can I get my first box?
We can deliver your first box on Wednesday 23rd Aug - get started now >