tell us the snacks you enjoy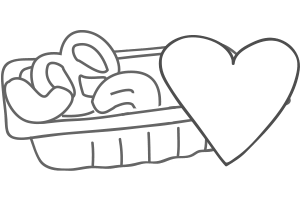 over 100 to choose from
---
we hand-pick a box for you
8 tasty snacks in a box
---
and send it to your work or home
no need to sign for the box
---
good to know
how do I order a box?
Ordering is simple. You choose a box type and enter your delivery and payment details. Then all you have to do is sit back and wait to enjoy the food when it arrives, simple as that.
will you deliver to me?
Currently, graze boxes can only be shipped to US addresses, including P.O. Boxes, within the 50 states.
For the time being, graze does not ship to APOs, FPOs, or US Territory addresses.
what food can I get?
We have a range of over ninety tasty snacks (each with a specific benefit to you), including nuts, seeds, juicy dried fruits, tasty crackers, dips and dippers, and natural treats.
Graze is not suitable for people with allergies. All of our food is packed in the same place, so cross-contamination between any of our ingredients is likely to occur. Our snacks may contain traces of gluten, wheat, eggs, nuts, peanuts, soy, milk and fish.
how do I choose what goes into my box?
The food in your box is selected based on your own preferences. For each of our foods, you tell us whether you like, love, or would like to try them. We put together your box based on these ratings ensuring you always receive the food you like.
when are my boxes delivered?
When you sign up to graze, you'll be automatically signed up to receive a box either every week or every two weeks depending on where you are based in the US. Boxes are delivered Monday to Saturday, every day of the year the USPS delivers mail.
how are my boxes delivered?
Graze boxes are delivered by the USPS. Your boxes will arrive with your normal mail and will fit into standard US mailboxes so there's no need to be home to sign for your box.
will my graze box fit in my mailbox?
We've designed our graze boxes to fit inside most standard-sized mailboxes, but we know this can vary. The dimensions of each box are: 6.5" x 9" x 2".
what if I go on vacation?
This can be done on your home page under 'your regular boxes'. You can postpone your regular boxes one week at a time by clicking on 'when next?' and selecting the week you'd like to receive your next box.
If we've already started preparing your next box, it won't be possible for you to push the delivery date back. Amendments to orders can only be made before your cut-off time.
how much does each box cost?
Each 8 snack variety box costs just $13.99 including delivery.
when do I pay?
You pay per box and we take payment up to a week in advance of you receiving your box as we need time to prepare it and send it to you.
how easy it is to cancel?
There's no commitment ever - you can cancel your deliveries anytime online. However, because we start preparing your boxes in advance, we just need a bit of notice.