apple and blackcurrant crumble with blackberry compote
apple and blackberry compote (36.5%):
apples (43%), blackberries (23%), sugar, white wine vinegar, water, modified tapioca starch
apple and blackcurrant crumble (63.5%):
plain wheat flour, margarine (vegetable oil, water, salt, mono- and di-glycerides of fatty acids [suitable for vegetarians], natural flavouring, annatto, curcumin), apple and blackcurrant compote (23%) (blackcurrants, apples, sugar, water, red wine vinegar, tapioca starch), wholemeal wheat flour, jumbo oats, sugar, cornflour, ground bran (wheat), pumpkin seeds
Contains gluten and wheat.
you'll be able to rate this product when you order your first box -


spiced rye and date cake with toffee sauce

chocolate cake with cherry compote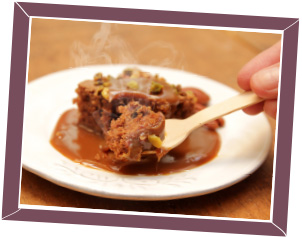 Our little puds taste even better warm. To warm, simply remove the film lid completely and pop in the microwave for 10 seconds. Take care, they can get hot!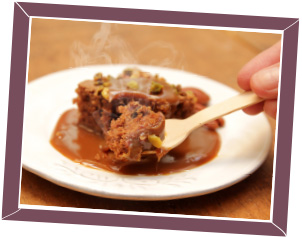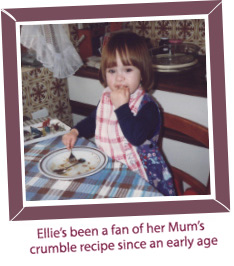 Let's face it, nothing compares to the puddings we enjoyed growing up. So we raided all our favourite recipes and worked out how to make them better for you.
We started by shrinking them down then added in loads of fruit and took away the giant jug of custard. This means that all our little puds are under 150 calories so you get just enough to remind you of your old favourites (without feeling guilty afterwards).
some questions about our little puds…
Do I have to heat up my little pud?

It's completely up to you – we think they taste great hot or cold!

Can I microwave any other nibbles in the graze range?

Our little puds come in special new punnets which are suitable for microwaving. The rest of our punnets aren't microwavable, so please don't try to heat them up.

Where can I find my mini spoon?

We've popped it in the bottom of your box, next to your napkin.

How do I check the ingredients?

Just click on the picture of each of our little puds to see the full list of ingredients.

Are they suitable for coeliacs and vegans?

Vegans can enjoy our apple and blackcurrant crumble, but the sticky toffee pudding, coconut crumble cake and brilliant black forest aren't suitable for vegans as they contain egg.

Our brilliant black forest contains no wheat or gluten, but our sticky toffee pudding and crumbles are all unsuitable for coeliacs.

Please note that all of our nibbles are prepared together in the same kitchen, so we can't guarantee that they will be 100% wheat or gluten free.

How long will my little puds last?

Your little puds are freshly baked without any additives or preservatives, so it's best to eat them straight away.